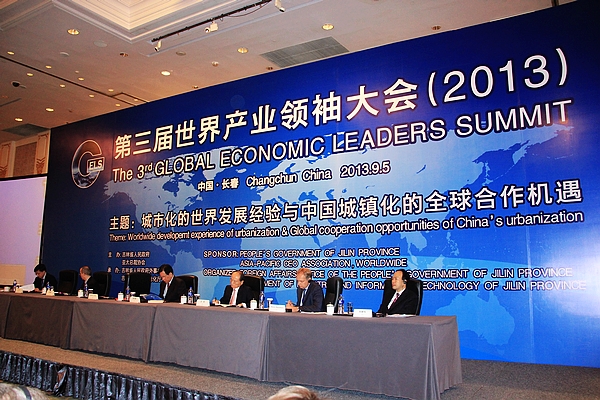 The 3rd Global Economic Leaders Summit (2013 GELS) was held in Changchun, a city known as the north spring city, in Jilin, China. Being one of the main events of China-Northeast Asia Expo, the summit was proposed by APCEO, the world-famous economic organization and jointly sponsored by APCEO and Jilin Provincial Government. The theme of the 3rd summit is "Urbanization Experience of the world; Global Cooperation Opportunities upon China's Urbanization".
Wang Rulin, Secretary of Jilin provincial Party Committee and Bayin Chaolu, Governor of Jilin Province specially met Zheng Xiongwei, Global Executive Chairman of APCEO, and representatives from Fortune 500 and Forbes 2000 companies that attended the 3rd GELS, including Tata Steel, Evonik Industry AG, United Technologies Corporation, Monsanto Company, Tata Consultancy Services(TCS), Sanmina-SCI Corporation, AB InBev, Life Technologies, Aditya Birla Group, AECOM, Teck Resources, Coca-Cola Bottling Investments Group China, Mitsui Sumitomo Insurance Co.,Ltd, The Nielsen Company, Bank of Montreal (China) Co. Ltd., Ericsson, TPG, Embraer China, Prologis China, Harsco, Beyondsoft Corporation etc.. Governor Bayin Chaolu attended the welcome banquet. Secretary Wang Rulin spoke highly of the contribution APCEO had made to the 3rd GELS and APCEO's devotion to the economic development of Jilin and international cooperation in the past five years.
Chen Weigen, member of Standing Committee of Jilin Provincial Party Committee and Vice Governor of Jilin, Milorad Zivkovic, First Deputy Speaker of The House of Representatives of The Parliamentary Assembly of Bosnia and Herzegovina, Oh Myeong, former Deputy Prime Minister of South Korean and Zheng Xiongwei, renowned International Economist and Global Executive Chairman of APCEO delivered speeches in the opening ceremony held on the morning of September 5th. The ceremony was presided over by Liu Fei, Deputy Secretary-general of Jilin Provincial Government.
The keynote speeches on the morning of September 5th and the cooperation conferences in the afternoon were moderated by Mr. Zheng Xiongwei.